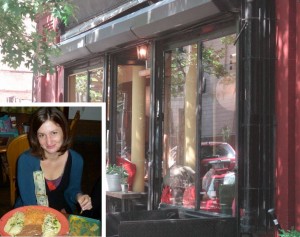 New Yorkers are not only notoriously opinionated, but also stalwart in their efforts to raise weekend brunch to a higher art form. This month's grub match has three Brooklyners squaring off over their favorite neighborhood brunch spots. In the Borough of Fortitude and Fisticuffs, the match promises to be a fiery one.
Our first contender is Texan belle and pickle expert Melinda Evans, and her brunch pick is Peaches, a haven of Southern flavor in Bed-Stuy. Here's more from Melinda:
You're headed to a deserted island to live on grass and coconut milk–what's your last meal before you go? A seriously Southern spread that includes real BBQ: brisket, chopped beef, stuffed baked potatoes (fully loaded), potato salad, white bread soaked in BBQ sauce, pickles – lots of pickles. For dessert – an ice cold key lime pie. With a spiked Tiger Woods (my husband's name for an Arnold Palmer) to wash it all down.
Do you have any food pet peeves? I have a drink pet peeve. I find it incredibly difficult to find a properly iced drink in NYC. When I order a soda (and yes, I order sodas Bloomberg), I want it to be heavy with ice. I want the glass to be sweating with the effort of keeping my drink cold. I want the absolute bottom to be as cold as the top. I want to stick my straw anywhere and be properly refreshed. A few cubes floating on top does not an iced drink make. 
What's the single most memorable meal you've ever eaten? Probably the first time I ate jerk chicken. I was about 8 and with my dad. I had NO IDEA what hit me. I remember saying, "The water tastes like fire!" Our waiter brought me a slice of bread and I just smashed it over my lips and gums. Now, I love jerk chicken.
Have you ever worked at a restaurant? I've worked at many-a-restaurant. In high school I worked at the Pasta Co. where diners could sit on the patio overlooking a lovely Texas-sized parking lot. After college I did a Mexican round at two different Cafe Adobes (six words: Hawaiian button ups with black jeans) as well as an ice cream round at both Amy's Ice Cream and Ben and Jerry's. I gained a bit of weight. I remember being at Ben and Jerry's and realizing I didn't eat lunch. So I made a peanut butter and jelly sandwich. AKA peanut butter ice cream and strawberry ice cream between two brownies. Yep, gained a bit of weight.
Okay, so what are three words that describe your Grub Match pick, Peaches? Straight-up tasty.
Why did you pick Peaches? Peaches knows how to properly ice a drink. When you eat there, you are likely sitting on a pillow, which I find lovely. The portions are serious and the food is straight-up tasty. I appreciate the homemade infused vodkas and classy cocktails. It's a great place for a casual lunch, a girly brunch, or a hot-date dinner. Love it.
How did you discover this restaurant? I work with charter schools in the neighborhood and found it one day for lunch. Needless to say, I "worked from home" for the next 2 hours so I could properly eat up.
What's your favorite item on the menu? Pulled pork sandwich (with a side of extra sauce for dipping)
And why will your restaurant be crowned Grub Match champion? It's the kind of place where you walk in and think "I'm ready to grub." While you eat you're like, "Man, I'm grubbing!" and when you leave you're like, "I just got my grub on!" A true champion.
Will the cold drinks at Peaches be able to ice the competition? You can check out Melinda's competitors on Tuesdays, here on PitchKnives.
Want to take part in a future Grub Match? Tell us about your favorite restaurant at submissions@pitchknives.com.