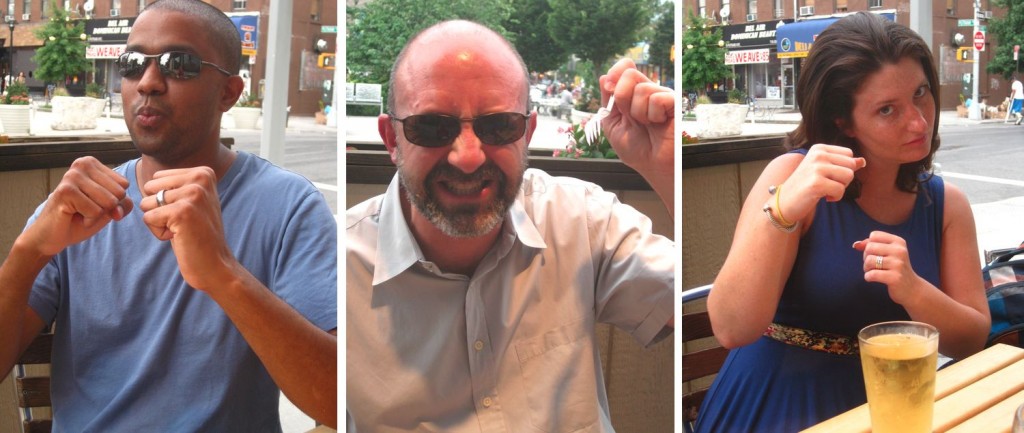 One storm was brewing in the west, and another was brewing between the three contenders in the Brooklyn Brunch Showdown. "Please," one contender whispered to me off the record, "bring on these brunch amateurs." But despite some brash displays of confidence, it was shaping up as a Grub Match far too close for anyone to call. In this Olympic season of eating, would Peaches, Beast or Café Luluc take home the gold? We were about to find out.
Round 1: Café Luluc
The match opened with Casey's pick of Café Luluc in Carroll Gardens. Because bars are not always ideal for child-rearing, she had armed her husband Dominic with ample typed notes and sent him in as her proxy.
But luckily for Dominic, the opposition started by praising the service and efficiency at Luluc. "The servers couldn't be nicer. They got you in and out of there quickly," Eric said. "I had the beginning of a migraine, but I was so happy to be immediately sat and immediately caffeinated," Melinda added. "You felt really taken care of, which is how I want to feel at brunch." They also had some good things to say about the food. "The pancake was delicious, and it had a generous portion of fruit on top," Melinda said, and Eric described it as a "solid meal."
Both opponents, however, were quick to point out that Luluc had a niche. "It's more like a girls' brunch, or an established relationship/family brunch. It's functional," Melinda explained. Eric agreed: "It's not the kind of place that really inspires you to have a drink, not even a Bloody Mary, really. They were intent on turning tables. Sometimes that's great, but sometimes for brunch I just want to sit there for a little while and look at my fingernails." Cuticle gazers beware—this is not the place for you.
Round 2: Peaches
Peaches in Bed Stuy (Melinda's pick) won some early points for the breadth of the menu. Both Dominic and Eric had tried the Jim Cade, a veritable smorgasbord involving bacon, granola French toast, grits, eggs, and some other stuff they couldn't remember. "I would usually have to order three things to get what I want, but that had everything I wanted," Dominic said. Eric was also wooed by the scene at Peaches: "I walked in and there was this jazz trio. It was a lively environment, just very happy and relaxed. It was a good vibe, I thought."
But Dominic was less impressed. "They open late, so it's the hip, younger crowd, who are there for the ambience and fanfare," he said. "But if you're going to be a cliché brunch place, you've got to really bring it. Casey got an omelet and she thought it was just a big glob of cheese thrown in there. I liked the Jim Cade selection, but I didn't think the food itself was that spectacular…For us, it wouldn't get on the recommend list."
Melinda conceded that the service at Peaches is "really laid back and Southern." ("I like that aspect of it, but it might not be something you want to do with a baby.") But she maintained that Peaches deserves its status as a Bed-Stuy favorite: "I appreciate that it's a part of the neighborhood. It serves that community, but it also draws people to the neighborhood." Eric, for one, was buying Melinda's defense. "Long live Peaches," he said solemnly.
Round 3:  Beast
Hot and bothered over the Peaches disagreement, the contenders turned their talons to Beast (Eric's pick). The atmosphere, Melinda and Dominic concurred, definitely lived up to its savage moniker. "It reminded me of being a regular at a bar," Melinda said. "It's more like a walk of shame kind of brunch, rather than a family brunch." Dominic was taken aback by the state of his table: "It looked like there had been a fraternity party with drinking games and smelly sex and whatever else kids do, and then they just woke up the next morning and wiped the table down with some wet paper towels and then served brunch."
But the culinary counterpart to this dankness was surprisingly flavorful, seasonal fare. "The highlight of the meal for me and for Casey as well was the quality of the ingredients, Dominic explained. "They came together into a simple, traditional meal, and that's what we like. I got a side of the French toast and…yes! They make it very moist and sweet and tasty, but not soggy. To have the moistness without the sogginess is key, and they did that so well."
Melinda, while less than overjoyed at having to eat at the bar, admitted that it came with an upside: "The atmosphere was so bar-like and dark, that I really prefer it for dinner…but I embraced it, and I just drank. The Bloody Mary was delicious." Eric saw no need to defend his pick: "Beast is not without its idiosyncrasies…I'll grant you that. But the frickin' burger keeps me coming back."
The Scoring
The final bell had rung, and it was time for the points to be tallied. The scores were shockingly close, with the champ barely eking out a win by a single point! The results…
Best Laid-back, Jazz Riff Brunch: Peaches
Best No-Fuss Family Brunch: Café Luluc
Best Cleanliness-is-for-Wimps Brunch and this month's Overall Winner: Beast!
Think you've got what it takes to step into the Grub Match ring? Contact us at submissions@pitchknives.com.