I can't remember a damned thing if I don't put it on a list: where to be, what to do, and what to drink while do it. Even then I forget where I've set my drink halfway though. As such, I am a fan of the proliferation of end-of-the-year lists around New Year's, and offer you one of my own: Llalan's Top 10 Beers of 2013.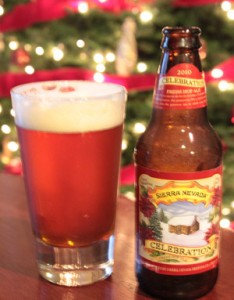 10. Celebration Ale. I do the Dance of Joy every November when this beer is released. It was on last year's list as well, and this beer will likely be on every end-of-the-year list as long as Sierra Nevada continues to produce it. It is one of the few nutmeg- and cinnamon-less winter seasonals out there. You can bet there is always some in my fridge during the holidays. Don't bet on me sharing it, though.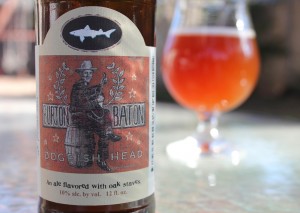 9. Burton Baton. Because Dogfish Head's 60-minute IPA is another perennial (and inspirational) favorite in my home, I want to feature one of their other, lesser-known brews. The delicious concoction (also mentioned this Thanksgiving) is actually a combination of an imperial IPA and an English-style old ale, aged together in an oak tank. Like nothing I've ever had and like everything I've always wanted.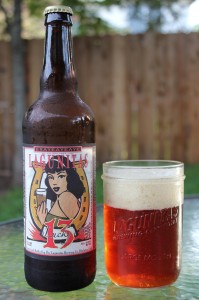 8. Lucky 13. Lagunitas first brewed this beer in 2008 to celebrate 13 years of brewing and brought it back last year to celebrate 20 years of putting out fantastic beers. It's a big red that has that delicious something peculiar to Lagunitas. In the end, we're the lucky ones.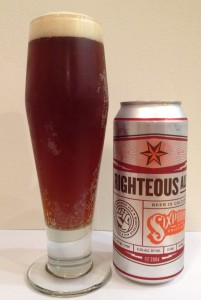 7. Righteous Ale. I am a huge fan of rye beer; insert bitter joke here: ______. The Sixpoint take on rye beer is definitely one of my favorites, in part because it does not coat your mouth with that potent and unpleasant aftertaste most ryes have. It is unique in its adaptability to the weather, in that it will warm you in the winter and quench you in the summer.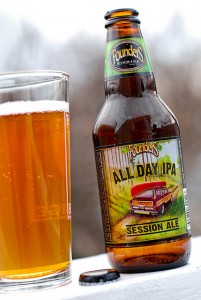 6. All Day IPA. This session beer from Founders is remarkably flavorful for a beer of 4.7% abv. So flavorful, in fact, that Ben and I thought we could trick our wedding attendees into thinking it was a higher-powered beer that should be drunk with care, rather than a cheap, low-alcohol brew you can drink gallons of. So instead of having a few out-of-control drunks we just had a crowd of very careful drunks.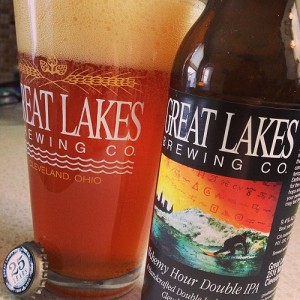 5. Alchemy Hour. This summer seasonal imperial IPA from Great Lakes Brewing is what made last summer's heat bearable. Around closing time at my shop I found my mouth was watering at the prospect of sitting on my porch, watching the sunset, drinking a cold Alchemy. They have had to change the name (now Chillwave), due to a copyright issue, but as long as the recipe remains the same, I won't complain.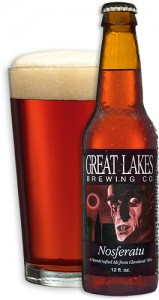 4. Nosferatu. An imperial red ale, also from Great Lakes (I hope they're able to expand distribution soon, 'cause I fear many of  you are missing out!) If this is what being a vampire is all about, well then, bite me! Looks red, tastes red, and your empty glass has you seeing red.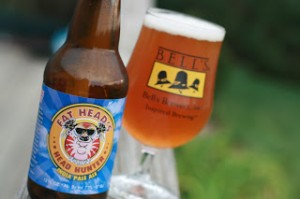 3. Head Hunter. Fat Head's operates primarily out of Ohio also, so I'm not sure how many of you will have tried this…but if you haven't, get yer butts on a flight to Cleveland. This IPA tastes like an imperial with it's bold hop flavor and flowery notes. It's won multiple national awards and was my go-to beer of 2013. Pretty much guaranteed that every first sip would elicit a, "Damn, that's good!" or something of the sort.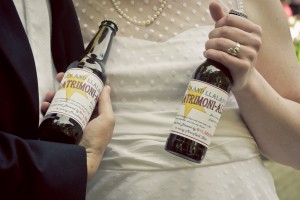 2. Matrimoni-Ale. Maybe it's cheating, but I do feel obligated to include the beer Ben and I brewed together for our wedding. It was an extremely limited release, brewed last winter using hops grown in the family garden. At the wedding we passed out a sample to everyone to use for the toasts; by the end of the night the keg was kicked.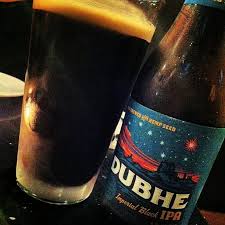 1. Dubhe. This may seem an unlikely winner, but this beer from Uinta Brewing in Salt Lake City, Utah, is flabbergastingly fantastic. It is brewed with, to quote them, "an astronomical amount of hops," but also with hemp seeds, which one can only assume has something to do with its name, pronounced "doo-bee." (Ain't nothin' Mormon 'bout this beer.) It's a black IPA, oil-like in appearance and transcendental in flavor. Thank you, bar next door, for introducing us.
So those are my picks: what were your favorite beers of 2013? I can't wait to see what is in store for us this year!