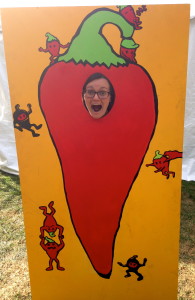 The advertising promised "5 Blazing Bands, 7 Hours of Chocolate Debauchery, 23 Years of Spicy Culture, 2 Legendary Fire Breathers, 52 Fiery Food Artisans, 52 Acres of Glorious Gardens."
Fire breathers and free spicy food?  We're there!
We visited every stall.  Every. Stall.  And here are our picks:
Shannon's Pepper Picks:
Brooklyn Delhi: I cringe at paying $8 for a jar of salsa, no matter how good it is, because I could (and might very possibly) eat the whole thing in a single sitting with a spoon. But with achaar, Indian pickle, a little dab'll do ya, and with innovative combinations like rhubarb ginger on offer at the Brooklyn Delhi booth, the price suddenly seemed entirely reasonable and left me wishing I'd packed some naan in my purse.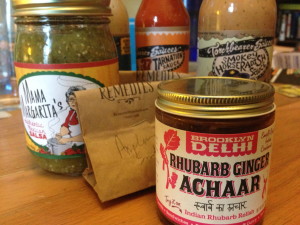 Queen Majesty: Do you know that the easiest way to catch fruit flies is with vinegar? That whole thing about catching more with honey is such a lie! Anyway, I love vinegar in many forms, and even though sweet-hot sauces seem to be all the rage these days, Queen Majesty makes beautiful vinegar-based ones that still have plenty of complexity. Try the jalapeno, tequila and lime flavor for a delicious tangy kick.
Torchbearer Sauces: Torchbearer employees were some of the hardest working at the festival, complete with a high-energy barker and a hipster-looking dude in a chili pepper costume. But the veritable buffet of samples did its own kind of talking. For twenty bucks, I walked away with big bottles of the addictive Oh My Garlic!, the heavenly Smoky Horseradish and the extra-extra-spicy Tarnation: a full hat trick of Torchbearer goodness that will last me months beyond the festival.
And Jason's Picks:
Mama Margarita's Salsa: To come into contact with affluent Brooklyn is to come into the orbit of innumerable foods that have been tinkered and tweaked into whole new creations. And at the same time, so many of the "traditional" foods, cornered by mega companies, have in mass production dropped in quality. (I know that this is not a traditional food, but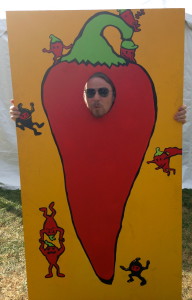 have you tried a Klondike Bar lately? Oh my God, what a plasticized abomination it has become!!) So perhaps that's why Mama Margarita's tomatillo salsa is the only food I allowed myself to buy. The ingredients may be only tomatillos, chiles, cilantro, garlic, salt, and spices, but it tastes like so much more, something clean and fresh and broad enough to simultaneously taste of the individual components and a mixed whole that's phenomenal in a way you just can't put your finger on.
Gustavo's Salsa: Gustavo had both a verde and a chipotle salsa on the menu. Chipotle the fast-food joint is pretty much the only franchised restaurant I ever patronize, and I will freely admit that I will destroy a bowl or burrito in no time flat and be happy as a clam and tubby as Pooh for the next eight hours. But Gustavo's real-deal chipotle really knocks you back on your heels and reminds you that the small-batch, home-grown thing is where the real pleasure lies. It was something like perfectly smoky, achieved some expertly calibrated central degree of "Smoke" around which all the other ingredients could circle. Perhaps that's how it seems because the eclipse on Sunday put orbital, spherical structures at the forefront of my mind. I don't know. But I do know that I returned to Gustavo's booth three times.
Spoonable: The ladies who own Spoonable make caramels. I presume they set up shop at the chili festival because their wares include a Spicy Chili Caramel and a Peppered Orange Caramel. But it's the Flowery Lavender Caramel that hooked me. Sweet Jesus; it tasted like a ghost infused with The Secret Garden, whatever that means. I walked around for an hour after tasting it trying to re-conjure in my brain, through sheer force of will, the pleasure it gave. And then I thought about it all afternoon and into the evening. This was one of those moments where I wish I could spend $8.50 on a jar of caramel, one of those moments where I really wish America paid artists and teachers more than poverty wages. Caribbean resorts or the suburbs? Take 'em. Just give me the Lavender Caramel.