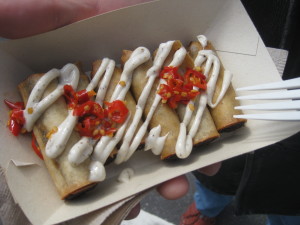 It was a rough and windy day for anyone trying to peddle lemonade, but somehow or other, it came just the same. Smorgasburg, the movable feast and Brooklyn Flea spinoff that has been charming Williamsburg for five years had its grand opening this Sunday in Prospect Park. It's there every Sunday of the spring and summer from 11 a.m. to 6 p.m, so head over if you want to see any of these things: dogs in the throes of ecstasy at finding the dropped food and trash-robbing jackpot, discerning infants who can tell the difference between a ramp and a leek at fifty paces, bearded men who will tutor you in the restorative powers of mushroom tea, tiny fried eggs on a stick and lots of people picking roasted corn out of their teeth.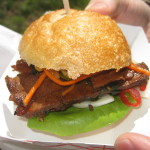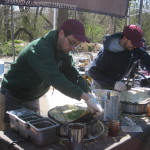 Truly, though, Smorgasburg exceeded my expectations. Amid the more expected fare like French fries and pulled pork sandwiches was a lot of stuff that I'd never tasted before. Here are a few of the treasures we found on our sampling round: crispy Filipino-style spring rolls stuffed with adobo-marinated mushrooms from the Lumpia Shack; a saucy seitan bulgogi sandwich on a heavenly roll from Monk's Vegan Smoke Shack; a wacky Shanghai street food crepe/omelet/rice cracker mash-up from Jianbing Co. The last one suffered from long lines, though to be fair, it also had some of the best entertainment in the form of passersby trying to figure out how to describe it. ("It's like a giant taco thing." Um. Not really.)
Plus we ate some French fries, because food doesn't have to be novel to be delicious. Here are a few more photos to whet your appetite for next week's (hopefully warmer) encore.