I once read an argument that pad thai is as close as one can get to a perfect food. This had to do, as I recall, with complicated reasons of nutrition and global food supply and economics. I think, though, if we were thinking only of taste, the perfect food would involve not rice noodles and peanuts, but French fries, cheese curds and gravy.
Longtime readers of the blog might remember my love affair with the poutine I found on a trip to Vancouver a few years ago, but we recently upped the ante with a trip to Quebec province, the very epicenter of poutine culture. When we crossed the border into Canada and the guard asked us what our plans were in Montreal, we told him the truth, which basically amounted to "going to the Biodome and eating poutine."
"You know, you can get that at McDonald's," he said, deadpan. Droll border guard! We had no intention of settling for the fast food version. We were on a mission to find high-class, vegetarian-friendly poutine. Oh, and find it we did. Below, a comparison of the top contenders that Montreal had to offer.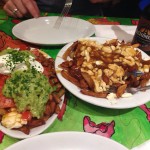 La Banquise: No serious poutine hunter would neglect a trip to La Banquise. It serves poutine in a dizzying array of varieties, twenty-four hours a day. Plus, you can get any variety with vegetarian gravy. After a tough time parking on the labyrinthine streets of Le Plateau, we treated ourselves to a late-night poutine binge consisting of a huge order of the original and a smaller side of a variety called La Taquise involving guacamole, tomatoes and sour cream. Sacre bleu! Making an entire meal of poutine is not for the faint of stomach, but if you decide to embrace this endeavor, La Banquise is your place: massive portions, very crispy fries, mountains of cheese curds heaped on top. The vegetarian gravy is a little weak and thin, but let's face it, you'll probably be too drunk on the impressive selection of cheap local beer to notice.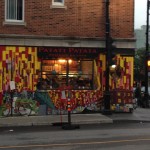 Patati Patata: Walking into this tiny place, I was nervous. Staffed entirely by steely-eyed tattooed young men, it had the vibe of certain Williamsburg, Brooklyn joints that make me feel very old and uncool. But the oh-so-Canadian gentility of our server assuaged my initial fears, and the poutine made me develop a serious soft spot for this place. The house special (see above) involved grilled onions, peppers and mushrooms added to the usual ingredients. The fries were more of a shoestring variety, which isn't for everyone, but the gravy was other-worldly delicious. Paired with a tofu sandwich topped with Mediterranean feta spread? I'll take another round.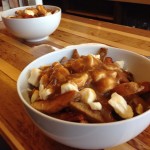 Comptoir 21: This place is really a fish and chips spot, but its devilish little secret is that it serves a vegetarian poutine that has made a name for itself amongst connoisseurs. No fancy toppings here—just purity of form. The cheese curds squeaked, a sign of certain freshness, though Jason thought they could have been distributed more liberally. It was also in a neighborhood that was largely Portuguese, and as we left the restaurant, we ducked into a bar to watch Portugal win the European Cup in soccer, which was one of the more surreal travel experiences I've had. Could the poutine have had something to do with it? Perhaps.
I know. You want me to name a favorite, but I'm not sure that's possible. If I were building a perfect poutine, I would take the thick, crisp fries of La Banquise, the gravy of Patati Patata and a super-portion of the superb curds of Comptoir 21. One more day in Montreal, and I might have tried to pull that off. But like a plate full of poutine, all vacations must come to an end.