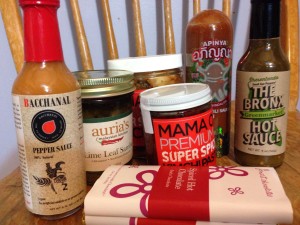 Well, here's something new: a woman came up to me at the BBG Chile Pepper Festival on Saturday with a huge grin on her face and said, "I know exactly what you're doing! I tried the same thing last year!" Apparently detecting my confusion, she clarified, "You know! Eating lots of spicy food so you'll go into labor," and then nodded at a grinning little boy who was, presumably, about one year old. Egad! This had not occurred to me in the slightest. Luckily, the fetal Leahey took the spice like a champ, remaining firmly in utero, and Jason and I found a bounty of delights to purchase and recommend. It says something about the depth of the product offerings that while we still enjoyed lots of our top picks from last year, we found a whole new collection of peppery offerings to love this time around. Here are the six that we deemed too good to pass up:
The Bronx Greenmarket Hot Sauce, Small Axe Peppers—The label of this one begins, "Only three locations begin with "the"–The Hague, The Vatican and The Bronx." While that can't be strictly true, I love the borough pride that these guys have. With the help of some Bronx non-profit organizations, they buy their serrano peppers from local community gardens, a way of sharing the profits and the love with their neighbors. But it's not just a feel-good tale; it tastes great, too, with a slightly vinegary bite and lots of layered flavor. If you're local, you can find it at Whole Foods and lots of other grocery stores, but if not, you can order online.
Spiced Hot Chocolate Bar, Jomart Chocolates—I'm not going to lie; spicy chocolate is a hard sell for me. Putting chili into something sweet often feels heavy-handed and intrusive. But Jomart, a 70-year-old Brooklyn chocolate manufacturer, makes a chocolate that is so rich and smooth that the spice just elevates it with a nice little kick. Also, when Jason was sputtering from overzealous hot sauce intake, one of the proprietors gave him some non-spicy chocolate to soothe the burn, and he reported it was equally delicious.
Lime Leaf Sambal, Auria's Malaysian Kitchen—One of the things I love about the festival is finding products that can give the task of cooking a little lift by inspiring you to make something new. I don't know a thing about Malaysian cooking, but the sambal from Auria's made me believe I could definitely pull off a pretty great soup or stir-fry with this in my corner. Plus the label suggests mixing it with sour cream for a dip. Umm, yes?
Super Spicy Kimchi and Kimchi Paste, Mama O's—Jason is the true kimchi lover in our household, and it can't be too fermented or too spicy for his taste. That's why I've gotten Mama O's paste for him before as a stocking stuffer. At the festival, they were selling everything at a price that seemed like a steal, so he stocked up. And while I'm not as much of a kimchi fanatic in general, I'll happily agree that Mama O knows what she's doing, with paste that has tons of flavor and vegetables that somehow still taste light and fresh even after pickling.
Ghost Vindaloo Sauce, Apinya Thai Food Co.—Ghost chiles were all over the place at this year's festival; they're the trendiest pepper around. But while lots of ghost chile products seem like a how-hot-can-you-go dare, Apinya's yummy Thai-Indian fusion sauce is nicely balanced and goes down easy. Jason has already cracked this one open to make a tofu and chard dish that was outstanding with some lime yogurt sauce. You can order it for $6 online, which might make it one of the best deals we found as well.
Original Pepper Sauce, Bacchanal—Usually, I'm a sucker for hot sauces that are on the sour side, so it surprised me how much I took to this sweeter Caribbean-style hot sauce. The pineapple and papaya really made this one shine and left me with an impulse to go home and douse some beans and rice with it. Don't be fooled by the sweetness, though, pregnant ladies; this one has a real bite, and I've heard that kind of thing can send you into labor. Or maybe just leave you yearning for more chiles.