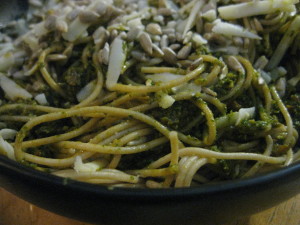 Every garden, every growing season, has its bumper crops, those wildly successful experiments that you can't anticipate ahead of time. (Just ask my mother, who has been frantically cooking, freezing and foisting tomatoes upon anyone who comes near her. Actually, maybe you shouldn't ask her, or even get near her, unless you're prepared to make gazpacho.) In our household, it's arugula that keeps growing and growing, almost faster than we can use it. So, to the rescue, comes one of our favorite new easy dinners: arugula pesto.
A delicious pesto is not the territory of basil alone. It's true that you could substitute arugula for basil in the most familiar of pesto recipes (pine nuts, garlic, parmesan), but why stop there? In fact, pesto means paste, so you should feel free add any manner of deliciousness, blend it to a paste and call it pesto. I've come up with a couple of variations to get you started.
A quick word on measurements: one of the real pleasures of pesto is that you just keep dropping things into the food processor until you taste it and become convinced that you are a culinary genius. Far be it from me to rob you of that magical experience. So I'll give you some very general guidelines for enough pesto for two big portions of pasta, but really, the best thing to do is to taste it frequently throughout until you feel like eating big gobs of it with a spoon. Then you're done.
A.S.A Pesto (Arugula, Sun-dried Tomatoes, Asiago) Continue reading →