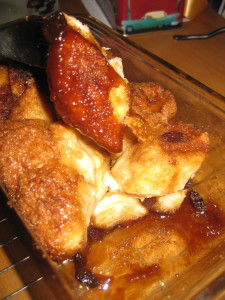 Do you know monkey bread?
You need to know monkey bread.
Monkey bread is a Southern staple, super easy to make, and stupid delicious.  We used to have it on the regular after church on Sundays, but I rarely make it as an adult.  Perhaps because of this scarcity of monkey bread in my life, I've come to think of it as significantly a Christmas thing, an integral part of breakfast, served alongside some kind of spiced juice-tea concoction my mother has served in mugs shaped like Santa and Mrs. Claus' heads, and after which consuming I will fall asleep on the floor under the tree in a bathrobe or perhaps sweats and a 26-year-old Def Leppard shirt as soft as The Baby Jesus' fanny.
After making it at home this year for a solo Shannon-&-Jason Christmas, though, I think I'll be making it on the regular again.  Perhaps Mom always brought it out on Christmas because it's so damn easy.
And because it's so sticky sweet gooey yummy blam!
To make monkey bread all you need is Continue reading →