Last week, the Union Square Farmer's Market, one of the biggest and best in the city, put on its first nightmarket, billed in a lavender promotional jpeg as "A Midsummer Night's Green Market."  The farmers stayed twice as long as they usually do, there was beer and music, and a handful of area restaurants turned out to dish out.
So we turned out, too.  We were psyched.
It ended up a bit of a very crowded catwalk of very good looking food.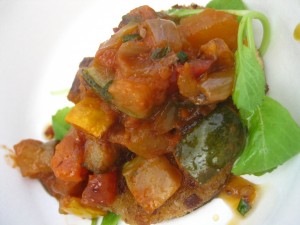 We tried Telepan's blueberry crescent and fried eggplant with ratatouille, both of which were pretty, decent, unspectacular.  Each of these guys were four bucks.
Next up was the peach turnover from Union Square Café, which was not only infinitely superior to its blueberry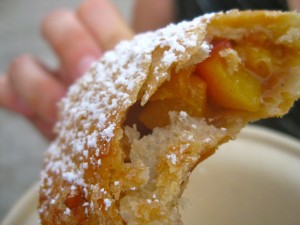 cousin but pretty damn delicious.  Once you accept the fact that any turnover stuffed with corn syrup gloop masquerading as fruit is an offense to all that is good and noble in the world, you are left with a turnover's pastry as its defining feature.  The Café's was fantastic: delicately crispy on the top, firm and flaky elsewhere.  Cost: six bucks. Continue reading →