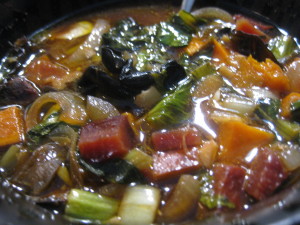 Soup, soup, soup, soup, SOOOOOP. I've been waiting for seasonally-appropriate weather for at least six weeks, largely to take the edge off the panic induced by a 70-degree Christmas Day in Ohio, but also to fully sink into winter grub. Winter grub includes soup. And thus we have here a tale of two soups.
The first is a variation on the carrot soup Shannon shared a month or two back. In this version, she braised the carrots in soy sauce before putting them in the food processor, replaced the onions with garlic, and added ginger and sesame oil. Boom. I have nothing against carrots, but I do get tired of the aggression of their sheer profusion these months. I could not get enough of this soup, though. I mean, some kind of lovely chemical in my brain drained away when Shannon told me there was no more. I didn't care what Slippin' Jimmy was dealing with in Better Call Saul. I sat there and secretly wished Shannon would give me some of hers.
Which she did on her own volition! "No, no," I said, "you finish your soup; I'm okay."
"I sampled a lot while making it; I'm full," she said.
And so I destroyed the few tablespoons left.
And thus inspired, I decided to do my part to work our way through our stockpile of root vegetables by inventing another soup that would satisfy a craving that I realized was significantly a craving for sesame oil.
So I worked up what I'll call Wasabi-Soy Sweet Potato with Ginger-Kale Chowder. Continue reading →