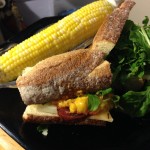 Peaches, peaches, peaches. How I love thee.
Looking for some way to maximize peaches in our lives, I hit upon the following. It is quick, makes very little in the way of mess or dishes, doesn't heat up your apartment with the oven, and is a delicious change of pace.
Peppered Peach and Manchego Sandwiches
1 large peach
Manchego cheese
slices of thick sandwich bread
arugula
butter
fresh ground black pepper
Cut the peach from its pit in thick slices.  1/2 slices are best.  Over low heat in a lightly-greased pan, saute them with slivers of butter and lots of black pepper on top of each.  Meanwhile, toast the sandwich bread and layer one side of each sandwich with thin slices of the Manchego.  When the peaches are starting to look a bit gooey or caramelized, layer them on top of the Manchego.  The heat will soften the cheese.  Cover the peaches with arugula, pour whatever peachy butter runoff remains in the pan on the top halves of the sandwich bread, then slice in half and serve.