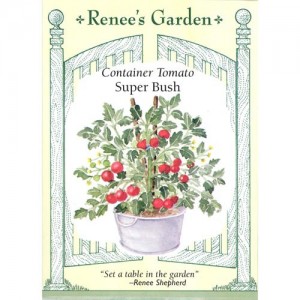 I woke up this morning feeling, in light of last weekend's sidewalk thaw, that it might be a good morning for a run. Then I realized it was 14 degrees outside, and my enthusiasm waned considerably. I like winter (I do!), but this is the time of year when gardeners and cooks alike begin to itch for warm weather and the promise of fresh local produce.
Reading through seed catalogs on a morning like this feels illicit, full of sensual but very distant pleasures. This is at least in part due to the descriptions themselves, which are colorful, exuberant and (at least to my cold-addled brain) a touch erotic. Below, I've pulled some names and descriptions from the online seed catalog for Renee's Garden. Can you guess what kind of vegetable is being described in each case? If you can identify all twelve, you've got it bad for spring.
1) Chelsea Prize: Elegantly slender, thin-skinned English with absolutely delicious, crispy sweet flesh. Easy to digest. Self-pollinating, vigorous vines.
2) Circus Circus: Our trio of cool colors includes creamy white, bright orange and a deep, dark purple with orange centers. All 3 well-bred Dutch varieties are sweet tasting, crisp and smooth.
3) Garden Babies: These babies have softly folded leaves, a lovely buttery texture and outstanding sweet taste. Ideal for containers, Garden Babies are slow bolting, heat tolerant, and make compact 6-inch heads at maturity.
4) Mandarin Cross: Golden-orange fruits with wonderful creamy texture and a mouthwatering sweet, even flavor finish These gorgeous fruit are borne in abundance and ripen like jewels on strong indeterminate vines.
5) Neon Glow: Color combo of vivid Magenta Sunset and Golden Sunrise stalks that contrast beautifully with green savoyed leaves for bright color and great eating. Eye-catching, productive, and striking in both vegetable and flowerbeds.
6) Profuma di Genova: Our fine Italian import is bred for pure bright flavor without minty/clove overtones, a compact shape and excellent disease resistance.
7) Raven: Dark green, smooth-skinned, cylindrical fruits are glossy and especially tender-fleshed. Delicious flavor picked as babies or at larger sizes. Abundant fruits are born high up on bush style plants that don't sprawl.
8) Slenderette: The sleek rounded pods of gourmet-quality Slenderette are particularly tender, juicy, and sweet tasting with no tough tips or fiber. Vigorous, productive plants bear delectable, bright green, 5 inch pods early in the season.
9) Striped Chioggia: Italian heirloom with bright, candy-red exteriors & interior flesh beautifully marked in alternating rings of cherry red and white. Delicious sweet flavor & fine texture. Great tasting leafy tops.
10) Sugar Daddy: High yielding bush vines that load up early with double pods, plump and nutty-sweet, at each plant node. Hard to resist eating right on the spot.
11) Sunset: Beautiful heirloom mix yields huge, elongated tapering fruits with thick, meaty flesh that mature to rich red, yellow or orange. Perfect for snacking, salads, sauté, or roasting.
12) Wyatt's Wonder: Gorgeous, globe-shaped, deeply lobed, rich orange giants. Developed especially for impressive size and beauty.
Don't click Continue until you're ready for the answers… Continue reading →