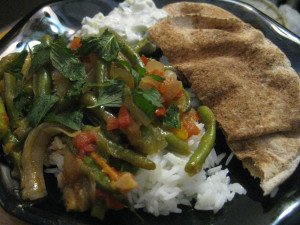 Eggplant has eggplant parmesan. Spinach has spanakopita. Even the humble cabbage has cabbage rolls. But green beans too often get cast in only a supporting  role, shuffled off into perpetual side dish territory. And that's too bad, since beautiful green beans are pouring in these days, from both our CSA and our own garden.
Luckily, there's a delicious Lebanese dish that gives green beans their moment in the spotlight. It's called loubieh b'zeit, and you can find many, many versions of it (and almost as many different spellings) on the ol' Internet.  I used some combination of them to come up with my own. Most recipes call for Lebanese Seven Spice, but if that seems way too exotic for your neighborhood grocery, you can make a pretty good simulacrum from spices that are probably already in your cupboard: equal parts black pepper, cloves, nutmeg, ginger, cinnamon, allspice and coriander, all ground up together. (I think the real thing has fenugreek, but this will get you pretty close.)
Another great thing about this dish is that it's often served cold or room temperature as a mezze, which means it's practically begging to be a leftover. Stuff some the next day in a pita with some tzatziki sauce and you've got yourself a mean sandwich. And you know how I feel about sandwiches.
Loubieh B'Zeit Continue reading →