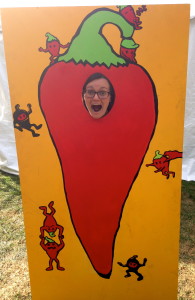 The advertising promised "5 Blazing Bands, 7 Hours of Chocolate Debauchery, 23 Years of Spicy Culture, 2 Legendary Fire Breathers, 52 Fiery Food Artisans, 52 Acres of Glorious Gardens."
Fire breathers and free spicy food?  We're there!
We visited every stall.  Every. Stall.  And here are our picks:
Shannon's Pepper Picks:
Brooklyn Delhi: I cringe at paying $8 for a jar of salsa, no matter how good it is, because I could (and might very possibly) eat the whole thing in a single sitting with a spoon. But with achaar, Indian pickle, a little dab'll do ya, and with innovative combinations like rhubarb ginger on offer at the Brooklyn Delhi booth, the price suddenly seemed entirely reasonable and left me wishing I'd packed some naan in my purse.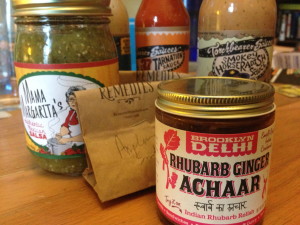 Queen Majesty: Do you know that the easiest way to catch fruit flies is with vinegar? That whole thing about catching more with honey is such a lie! Anyway, I love vinegar in many forms, and even though sweet-hot sauces seem to be all the rage these days, Queen Majesty makes beautiful vinegar-based ones that still have plenty of complexity. Try the jalapeno, tequila and lime flavor for a delicious tangy kick. Continue reading →