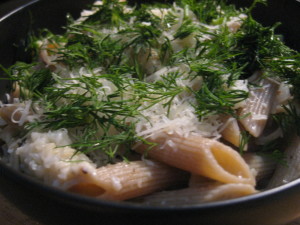 And so the saga continued. And this time, I was determined to step it up a notch.
Attempt 3: A Cabbage with a College Education
What's not to love about a vegetable that looks like a brain? So I decided to cook up some cauliflower, Tamar-style. She's an advocate for boiling vegetables rather than steaming them (crisper is not always better), so I sawed up about half a head and dropped it in a pot of salty boiling water. And since I hadn't done so well at thinking ahead up to this point, I also put the rest of the cauliflower (with some whole cloves of garlic) and some sweet potatoes in a 425 degree oven to roast.
When the boiling cauliflower was nice and tender, I ladled it out with a slotted spoon, and then used the same pot of water to cook some penne pasta. Then I mashed up the cauliflower with a generous handful of Parmesan cheese, some freshly ground pepper and the roasted garlic from the oven.  I added some of the starchy pasta water to turn to all into a sauce right before I drained the pasta. I don't like to brag, but I think I got some extra points for tapping into Tamar's fresh herb enthusiasm and topping it all with a bunch of fresh dill before serving.
The results were pretty good, simple but tasty. The components of the sauce did not combine quite as smoothly as I wanted them to, but no one can really complain about a big clump of melted cheese.
Tamar Score: 7
Attempt 4: It's Not Over 'Til the Skinny Yam Sings Continue reading →