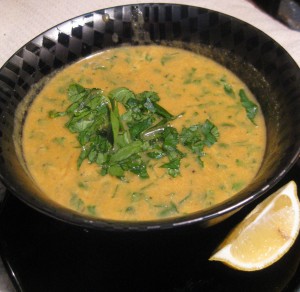 Is there anything better than walking in your front door and being greeted by the scent of garlic and onion sautéing in a pan? For one, it smells delicious, and it also means that someone else is on top of dinner. Jason and I both took a turn at cooking up the ol' alliums this week (the family that includes both garlic and onions), he with a healthful, cold-fighting garlic soup, and I with a not-so-healthful-but-seriously-super-delicious French onion soup.
Jason got the skinny on the garlic soup from his yoga teacher, who made it for her sick child. Garlic has long been a home remedy for warding off the sniffles, to say nothing of its reputation as a worthy adversary of arthritis, heart disease and some kinds of tumors. You could argue that garlic is not a miracle drug…or you could just eat some of this garlic soup and be happy. And you can trust me on this count: the garlic in it is well-cooked enough that you won't leak garlic from your pores. I was sort of looking forward to getting a seat to myself on the subway afterward, but I smelled no more like a salami than usual. You can find the recipe at this very earnest website.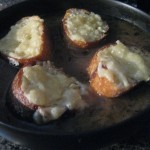 Healthfulness is a noble ambition, but I had other things on my mind when I made my allium soup. Namely, the fact that the day I figured out that most French onion soup is made with beef broth was a very dismal day in my vegetarian life. Once, I was listening to an Australian woman rant about her travels in America. I was with her until she said, "My God, you put cheese on everything! I ordered soup and it came covered in cheese!" That's the moment I discovered I had nothing more to say to this woman. If you can't see the beauty in a heap of melted Gruyere, well, then…perhaps you better scoot on back to your former prison colony of a nation.
So when we got a couple big ol' white onions in our farm share, I looked up a recipe and changed it a little for vegetarians. It involves making big Gruyere-coated croutons that you float on top. This might not be quite as impressive as blanketing the bowl like restaurants do, but it's easier and it ensures that not a shred of cheese is wasted. Good for a cold? Maybe not, but it's good for the soul.
Vegetarian French Onion Soup Continue reading →